Stowe Street Alley Project
RW and a host of volunteers have been working for more than a year on a plan to reclaim and transform an alley that is central to Waterbury's historic downtown district. The mission is to create a lively pedestrian walkway that encourages residents and visitors to stop, linger and appreciate the Waterbury community.
Thanks to community donations, the Alley will be resurfaced with our engraved pavers in the Spring. Next...an Alley gateway, a center medallion, plantings, benches, art spaces...a place for all to gather and enjoy.
Help transform the Alley!

Thank you to everyone who purchased an engraved brick to support the Stowe Street Alley project!
The bricks were purchased as donations by Waterbury community members, local businesses and organizations to support the Rally for the Alley fundraiser. Donors engraved bricks with sayings and phrases celebrating family and affirmations of Waterbury itself. These bricks will be incorporated and placed randomly into the Alley surface. The campaign raised over $25,000 towards the Alley's paving.
DEADLINES EXTENDED!
Revitalizing Waterbury (RW) is bringing new life to the Stowe Street alley and they're looking for help!
There are two Requests for Qualifications to find the perfect artists to create a welcoming and permanent Medallion Feature and Gateway Feature for the renovated alley. The application deadlines have been extended to May 8, 2023 for both projects. Both projects include honoraria and budgets.
Project Information
The Stowe Street Alley project will reclaim and makeover a prominent downtown alley creating a lively, public space and safe pedestrian walkway within our paved central shopping area that is attractive and engaging for the community. The alley is situated between two historic buildings; importantly, the alleyway connects a prominent downtown street (Stowe Street) with a parking lot offering additional access to another commercial street. The alley is currently desperately rundown and badly neglected. Stowe Street is the epicenter of town with the Senior Center, American Legion, Masonic Lodge and the elementary school all within a ¼ mile. Independently owned shops, art galleries, cafes and restaurants are also found on Stowe Street. Once repaired and cleaned up, the Alley will be a locale that welcomes residents, shoppers and visitors to stop, linger and appreciate our community. A major component of the project is to create a "space" for enjoying and participating in art, making the Alley a destination to view artist's work, observe artist demos and enjoy small scale performances.

Concept sketch
The Stowe Street Alley Project, also known as Jack's Alley, will reclaim and makeover an alley that is central to our historic downtown district creating a lively, public space that is attractive and engaging for the community.

Jack Carter, the original owner of the Stowe Street Emporium at 23 Stowe Street, was passionate about reclaiming the Stowe Street Alley and had dreamt about it for over 20 years. He was a key member of the planning committee until he died unexpectedly in June 2021.
The Alley Project has three components:
Installation of a new surface made from pavers and bricks, creating spaces for art demonstrations and performances, an in-ground garden bed, a structure over the cellar stairway to 23 Stowe Street and screening for the utilities.
Functional and artistic streetscape features such as benches, trash/recycling, security assets, and additional landscaping.
Integrated art components, including lighting and a gateway.
This Project is Supported by
These organizations: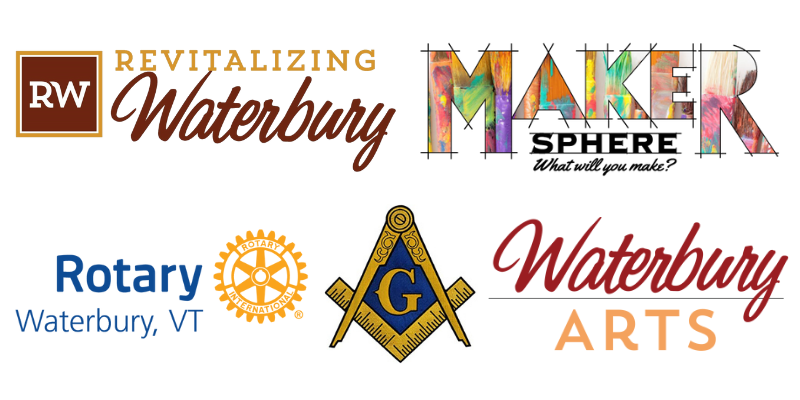 and
Property Owners, Area Businesses and Community Members